ABOUT THE MANHATTAN CHILDRENS CENTER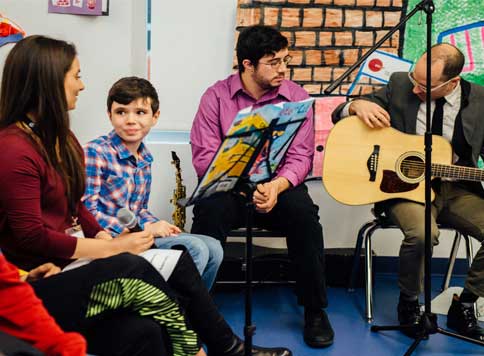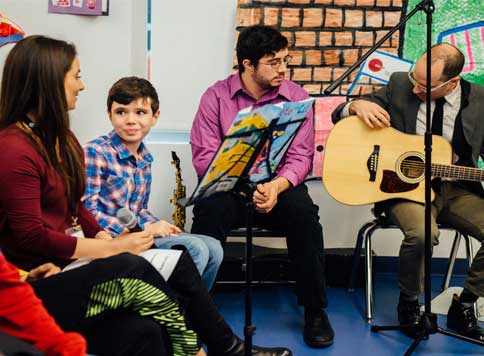 The Manhattan Childrens Center (MCC) is New York City's premier private school for children – ages 5 to 21 – with autism spectrum disorder (ASD). MCC offers a transdisciplinary approach in which all areas of each student's needs are addressed in MCC's topnotch teaching model whose philosophical underpinnings are rooted in applied behavior analysis (ABA).
The MCC model is distinguished by an unparalleled level of individualized treatment and education, which extends beyond the classroom and into the home setting through meaningful collaboration between parents, siblings, therapists, teachers, babysitters and all other members of a student's life.
Treatment For Autism Spectrum Disorder
MCC provides a first-rate treatment and education to children with autism spectrum disorder and affords them a greater quality of life as contributing members of their communities in the New York City. As part of its transdisciplinary model, MCC employs sensory integration, applied behavior analysis, occupational therapy and speech therapy, natural environment training, and family support.
Meticulously designed, individually tailored instruction is assigned to students based on their inventories, designated goals created by MCC, the wishes of the parents, and the needs of the community (i.e., future educational needs).  The curricula are always composed of measurable outcomes for students as well as detailed teacher operations.
MCC practices a transdisciplinary, behavioral model approach to education based upon empirically based research. Components of MCC's programming include that:
the student's needs drive the programming and collaboration between disciplines and are designed and monitored to ensure that the student maximizes opportunities for independence
the parents are integral contributors to the student's education through participation in parent training, direct observations, clinical team meetings, and support groups
the teachers receive state-of-the-art, ongoing training and direct supervision within the classroom daily
the supervisors are leaders in the development of student programming based upon the science of behavior as well as trainers who provide training and support within the classrooms
the collaboration between MCC's behavior analysts and therapists (both occupational therapy and speech therapy) allows for increased opportunities to practice, generalize and develop academic, communication, physical development, leisure, and daily living skills repertoires
the individualization of student programming is supported by our unique teaching models such that performance and behavior can be carefully monitored and adjusted to capitalize on student learning in the individual, group, and community settings
the curriculum provides measurable outcomes that are structured and sequenced to ensure generalization and is aligned with New York State Alternative Learning Standards
the community provides a platform for our students to practice and generalize skills in the least restrictive environment through inclusion, reverse inclusion, and structured community programming
MCC's Faculty for autism spectrum disorders treatment
MCC's Lead Teachers are certified special educators and/or certified behavior analysts, and receive ongoing supervision by board certified behavior analysts, licensed behavior analysts and NY State certified educators and administrators.  MCC's Supervisory faculty and Director of Education provide oversight and direct supervision for all students and faculty and hold degrees in special education and/or psychology with an emphasis in applied behavior analysis(ABA), board certification in behavior analysis (BCBA), and are licensed behavior analysts (LBA) in the State of New York.
MCC faculty includes over 140 bachelors, masters and doctoral-level educators and clinicians with expertise in the field of autism, applied behavior analysis, speech pathology, social work, special education, music, and occupational therapy. MCC has many faculty members who are Board Certified Behavior Analysts and New York State Licensed Behavior Analysts, in addition to other staff who are completing the coursework and supervised fieldwork for the BCBA and BCaBa exams as well as supervision for the New York State Licensed Behavior Analyst requirements.  MCC is also an approved CE provider through BACB.  MCC has a highly regarded staff development program offering biweekly ongoing training, quarterly conference days, and a mentorship program for pre-service teachers.  MCC promotes service training for education professionals through a partnership in research with Columbia University Teachers College, as well as fieldwork opportunities for Hunter College, Fordham University, Hofstra University, Nova Southeastern University, Mercy College, Queens College and Touro College.  Additionally, coursework provided in partnership with Queens College offers faculty the opportunity to complete coursework and fieldwork requirements needed to sit for the BCBA exam and New York State Behavior Analyst License on site. MCC's vigorous and unique staff training imparts critical skills for success to its teachers, instructors, therapists and clinical fellows. MCC educates, trains and continues to mentor the next generation of leaders, teachers and clinical professionals in the field.
Upcoming Crossbridge Events
OUR PROGRAMS
One of the primary goals at MCC is to teach and prepare our students to be successful in their schools, homes, and communities.
The faculty at the Manhattan Childrens Center provides world class treatment and education to children with autism spectrum disorder (ASD) utilizing the principles of applied behavior analysis (ABA).
Subscribe now and receive weekly newsletter with information about educational materials, new courses, interesting posts, popular books, and much more!